New Project Brings To Close Landmark Career of Hip Hop Pioneer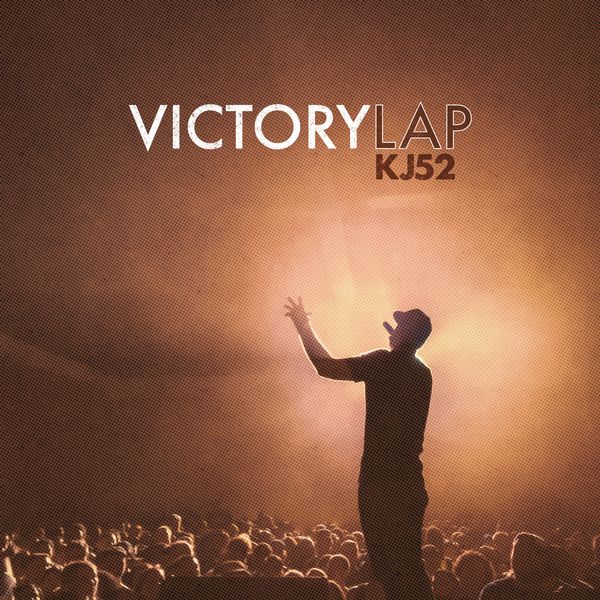 March 2, 2020 (Nashville, Tennessee) – "Victory Lap," a final book project by multiple Dove Award rapper KJ-52, is out today in three formats, joining a previously-released album which is part of a multi-medium package that brings to a close a multi-decade, landmark career by the Christian hip hop artist. The book features 30 chapters that cover KJ-52's life and career to-date.
"Imagine what would be running through your mind as you ran a 'victory lap,'" says KJ-52. "You would think back on all the ups and downs that got you to the place of winning the race. Picture you and me sitting in a room telling story after story about every aspect of my experiences…This book is for you. Each song on the album is inspired by a chapter from the book in order to help you experience exactly what I was feeling when I was going through that moment. This book/EP is funded by the fans, inspired by the fans and written for the fans!"
Though KJ-52 cites reasons for retiring that range from family to financial, the musical pioneer also vows to never leave music.
"It's the same thing about this genre that spoke to me when I was 15 and barely saved… I was trying to figure out what it meant to be a hip hop kid and a Christian and someone slipped me a tape and said 'listen to this.' All of a sudden those CHH rappers on the other side of the headphones made me feel like I had a place and that I fit in. I will never stop being a part of this movement because someone out there right now is just like me in 1990," KJ-52 says. "I might retire KJ-52 but I'll never retire the music.
"Hip hop needs the voice of the veterans to help guide the younger generation… people need to hear what it's like to grow old gracefully in hip hop," he says. "We need to hear what life looks like as you mature in your self, relationships with others and in your walk with Jesus."
"Victory Lap" in its various formats is now available. The audiobook version of "Victory Lap" is available at KJ52.com, Audible, and iTunes. The physical book is available at KJ52.com and Amazon; the digital book is available at KJ52.com, Amazon and iTunes. The album is available in physical and digital formats at KJ52.com, as well as digital retailers, including iTunes, Spotify, Apple Music and all other digital formats.
Alongside the announcement of his final KJ-52 release, the entertainer, whose given name is Jonah Sorrentino, also announced that he has taken a position with Christian Life Fellowship in Cape Coral, Florida.
"After 20 years of traveling in music and ministry, I've felt the Lord calling me back to serving in the local church full time," he says. "I want to take all the things I've experienced and use them in a setting where I can develop other people for God's kingdom. I find great joy in leadership and communicating truth in innovative and relevant methods and so I'm excited for this new phase in my life.
"I've known Pastor Dave and Dina Comer since the 90s and I've seen the amazing work they have done in Cape Coral. I'm super grateful for this opportunity to serve as an associate pastor and Go Team director for them."
KJ-52, who is based in Cape Coral, Florida, is a Guinness world record holder in freestyling and has garnered six Dove Award wins to-date, including taking home honors for song of the year for "Do Yo Thang" and "Never Look Away" and multiple album of the year wins for "Five-Two Television," "KJ-52 Remixed," and "It's Pronounced Five Two."
To learn more about KJ-52, visit KJ52.com, like KJ-52 on Facebook and follow him on Twitter and Instagram.
Radio Contact:
Jeff McLaughlin
A-Sides Radio Promotion
jeff@asidesradiopromotion.com
p: 615-530-3654
Media Contact
INOV8 PR
info@inov8pr.com
p: 615-435-9159