'He'll Make Everything Alright' Goes for Adds to Christian Country Radio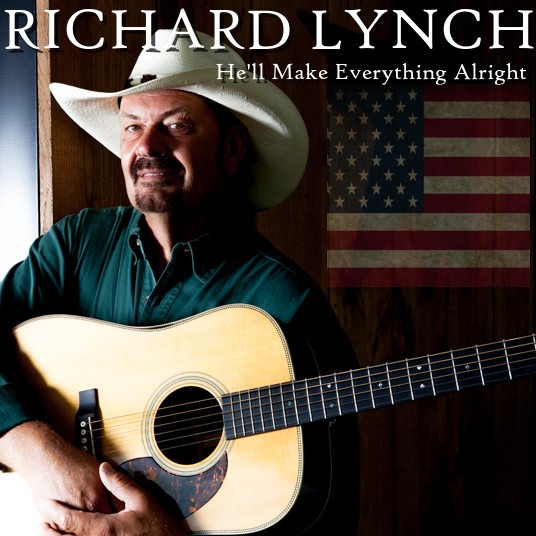 NASHVILLE, Tenn. (November 18, 2020) – Richard Lynch, multiple award winner and chart-topping country singer/songwriter, is set to release "He'll Make Everything Alright" to Christian country-formatted radio outlets today. The patriotic single, which Lynch penned, already has been released to digital outlets. A video is available on YouTube.
"I wrote 'He'll Make Everything Alright' because I want to remind anyone who hears this song that God is in control," Lynch says. "I know that the current state of events in our country – between the Covid-19 pandemic and the divisive election season – may feel like it's hopeless or maybe you feel angry or desperate. But I hope my music will help you find comfort and peace through your faith. Pray, because God will make everything alright."
Lynch is a veteran traditional country music hit maker, with songs sitting at the top of charts across North America. Based in Waynesville, Ohio, Lynch is a member of the Ohio Country Music Hall of Fame, the Independent Country Music Hall of Fame and has been named a Billboard Magazine Emerging Artist. With many awards to his credit, most recently, Lynch's album, "Think I'll Carry On," was the 2020 W.A.M. Award winner for best album in the country music category.
Lynch's long list of hits include "A Better Place," which topped the New Music Weekly AM/FM country chart, the IndieWorld Country Record Report and spent 32 weeks at the top of the Roots Music Report True Country chart. His next four singles also climbed to the top of country airplay charts, including "Back in Love Again," a duet with Grammy Award winner Rhonda Vincent. Lynch's single, "Country Music Isn't Country Anymore" went Top 25 on the iTunes Canada sales chart. The single, "Pray on the Radio" reached the U.S. iTunes Single Sales chart, as well as receiving Christian radio airplay.
Lynch's numerous media appearances include WSM Radio Nashville, RFD-TV and Fox TV. He also is host of "Traditionally Lynch," which airs on WSTR Star 64 in Cincinnati and web-based TV outlets, and is the founder of Love Tattoo Foundation for veterans.
For more information about Lynch, visit RichardLynchBand.com, and follow him on Facebook, Twitter and Instagram.