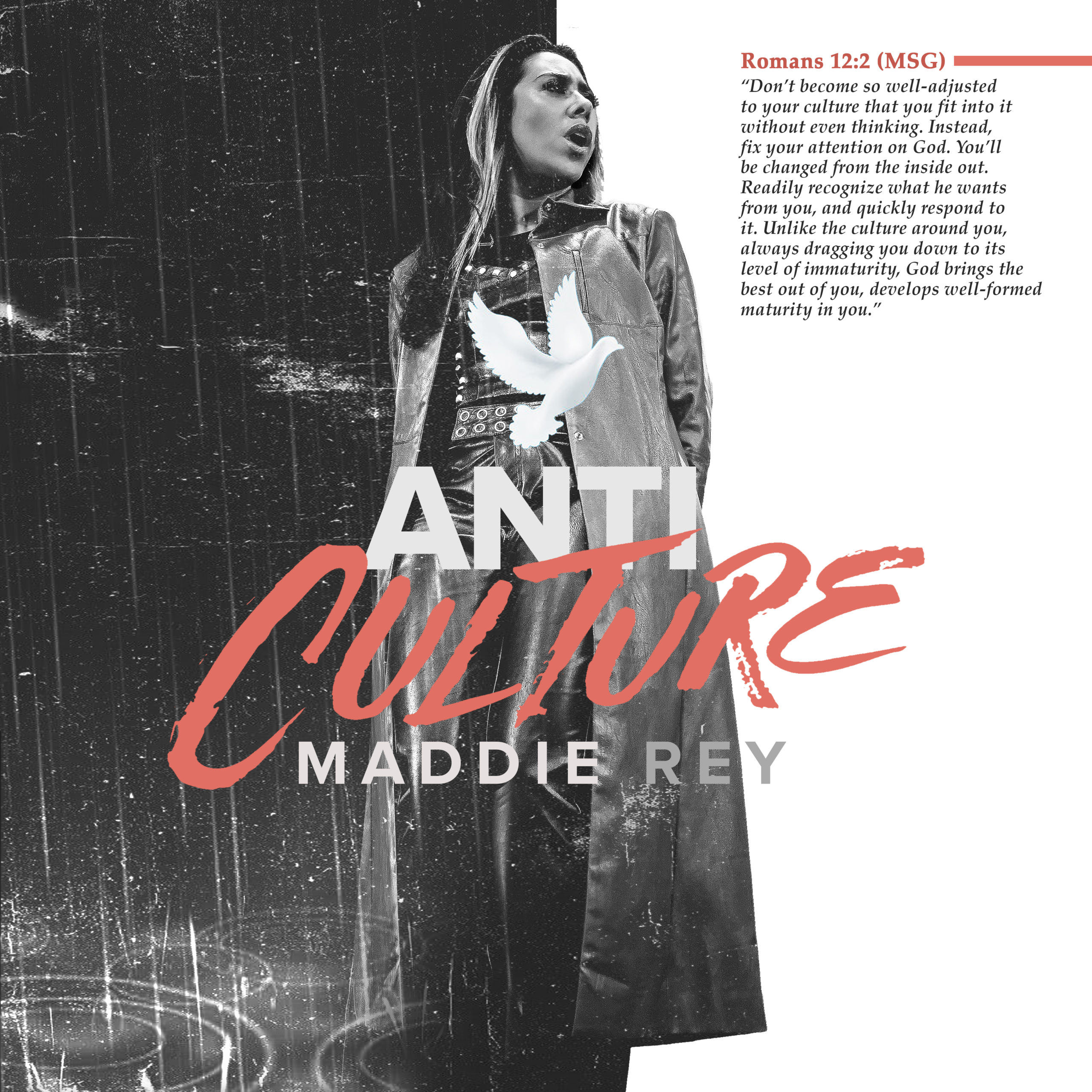 NASHVILLE, Tenn. (July 13, 2022) – Maddie Rey has just released her third single of 2022 and this bold and brave song is one that you are going to want to hear! Her new song "Anti-Culture" is out now on all digital streaming platforms and available for adds on radio and playlists!
Maddie Rey took to the studio with 2x Dove Award winning Atlanta music producer to master yet another fearless anthem for Christian music listeners of today! This song continues Maddie Rey's goal to make music that gives Christian's confidence to live the life that God has for them – and not to live for the culture of this world! Anti-Culture is a challenge to the Body of Christ to be separate, and to resist the worldliness that the culture of today has to offer.
The release of "Anti-Culture" continues a strong year of releases in 2022, including a new book "Culture Cleanse" and two Singles "On My Way" and "Name's Sake". This momentum continues from 2021 where Maddie Rey released 8 Singles, 8 Music Videos, and 4 Books. Along with her releases, Maddie Rey also travels the nation as an evangelist preaching at large conferences, churches, and events while simultaneously touring with her music. Maddie Rey is becoming a familiar face on prominent Christian platforms such as featuring on reputable news sites, podcasts, media outlets, along with the 5 million user downloaded app YouVersion.
Maddie Rey is a Christian Recording Artist, Speaker, Evangelist, and Author with a heart to reach a young generation and to empower young people to live passionate lives for Jesus. She shares her ministry at churches, youth groups, youth events, youth conferences, crusades, Christian music festivals, social media platforms, and more. At a young age Maddie Rey was able to launch Maddie Rey Ministries where she provides content to the body of Christ through her music, books, videos, merchandise, and teaching.
Connect with Maddie Rey:
https://www.maddierey.com/
https://www.facebook.com/officialmaddierey
https://www.instagram.com/officialmaddierey/
Radio Contact:
Jeff McLaughlin
A-Sides Radio Promotion
jeff@asidesradiopromotion.com
615-530-3654
Media Contact
INOV8 PR
info@inov8pr.com
615-435-9159