'Impact' Being Serviced to Christian Rock and Christian CHR Stations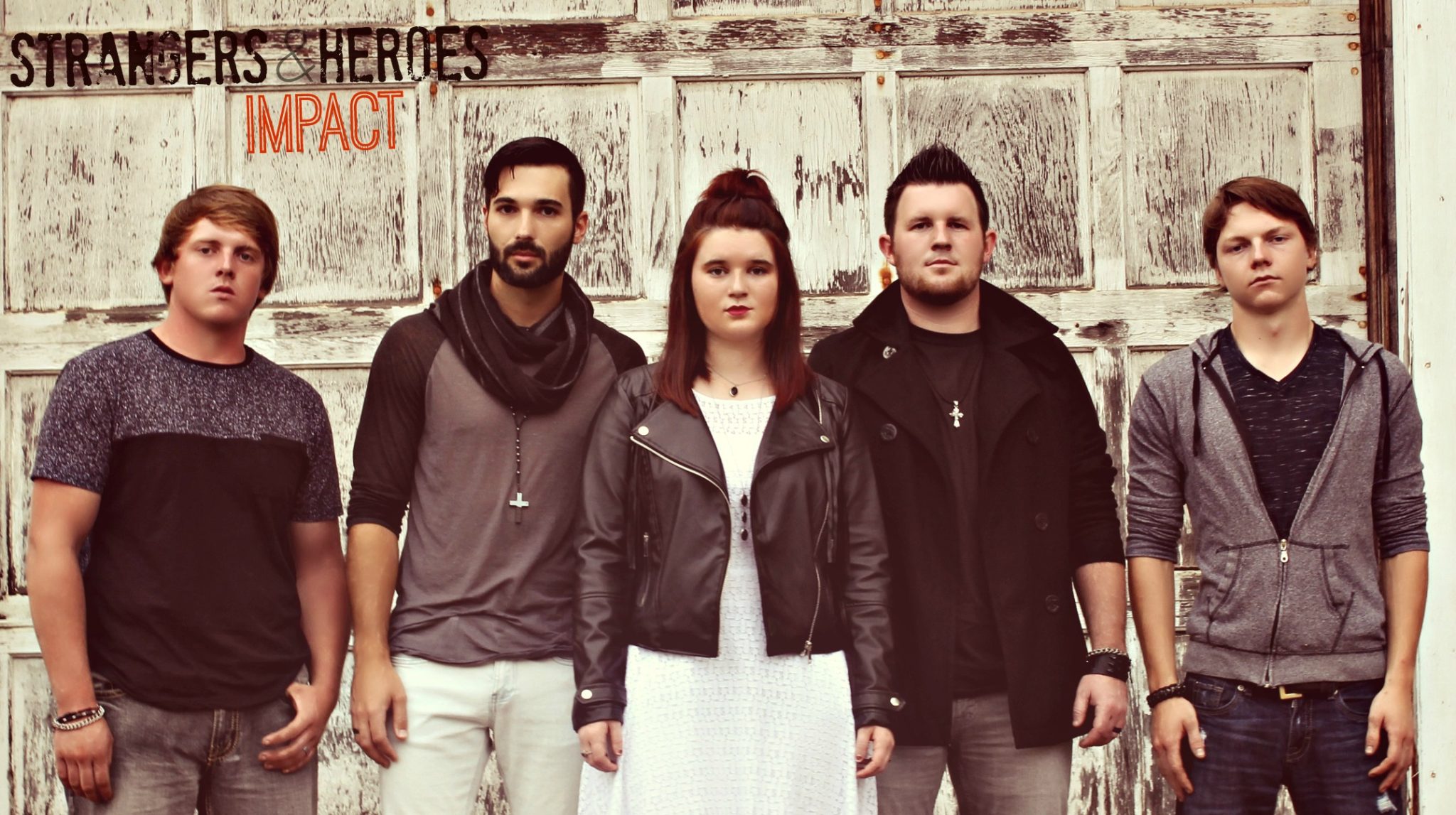 October 11, 2016 (Springdale, Ark.) – East Texas band Strangers&Heroes is set to release its debut single, "Impact", today to Christian rock and Christian CHR-formatted radio stations.
Strangers&Heroes, hailing from Crockett, Texas, features lifelong friends Emily Carden, Brent Price, Jr., and Stephen Bobbitt, along with brothers Chase Wells and Clay Wells. The new single was written by Bobbitt, Price, and Carden.
"Our dream is for our music to have a broader audience on Christian radio," Carden said. "The prayer is that our music will touch people's lives, and that they will know the love of Christ."
The band, whose music has been compared to the likes of Skillet, Flyleaf, Switchfoot, and Thousand Foot Krutch, signed with McLaughlin Music Group for development and management in May 2016.
Every story has a beginning. For the members of Strangers&Heroes, the story began in infancy. From attending the same Sunday School classes to swimming in dirty ponds together, it was always easy to see that Bobbitt, Carden and Price were best friends in every way. Though they often sang together on their front porches, surrounded by their friends and family, being in a band had never been their plan. At least, it wasn't, until they were encouraged to sing in more public settings. It was at that time that their musical careers began, although the path took an unexpected turn for the alternative rock band.
"At first we were singing Southern Gospel music, because that is what we grew up hearing in church," said Carden. "However, as time passed, our own individual styles began to mold and shape our music, and we began to take on a Christian rock influence."
After several years of being a band of three, the trio realized that they needed to add a few new faces to accomplish the vision God had given them. A number of musicians performed off and on with the band, until Chase Wells and Clay Wells met the members of Strangers&Heroes at a Battle-of-the-Bands event. Both excellent musicians, the brothers saw and shared the vision of the group and soon became permanent band members.
With encouragement from spouses and families, Strangers&Heroes has been able to continue to pursue the dream and calling God has laid on each of the band members' hearts.
The name of their band describes what their calling is all about: Strangers&Heroes stands for those who have yet to come in contact with the Gospel – the strangers – and those who are on the mission of spreading that Gospel to a lost world – the heroes.
To learn more about Strangers&Heroes, visit strangersandheroes.com, like the band on Facebook, and follow on Twitter and Instagram.
Radio Contact:
Jeff McLaughlin
A-Sides Radio Promotion
e: jeff@asidesradiopromotion.com
p: 615-530-3654