Christian Pop Artist Debut Label CD/DVD Hits the Streets Today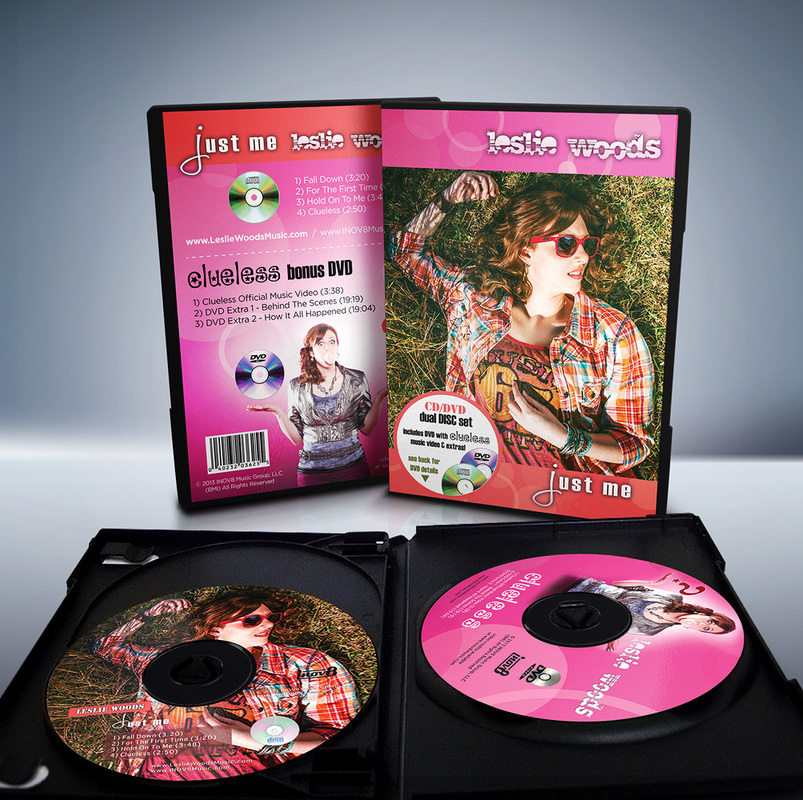 Roanoke, VA (August 1, 2013) INOV8 Music Group's Christian Pop Artist, Leslie Woods, has released her debut "Just Me" CD and "Clueless" bonus DVD today. The first three songs from the CD are re-mastered versions of songs that were produced by Zodlounge Music Production in Nashville, TN. Also included on the CD is her new song, "Clueless", co-written by Leslie, produced by Sean Hill of Uphill Studios in Atlanta, GA, mixed by Tony Palacios and mastered by Scott Sanchez.
A bonus DVD with more than 40 minutes of footage is included which features her new music video for the song, "Clueless", behind the scenes material, and an interview with Leslie and her manager, Jeff McLaughlin. "This song is about accepting yourself for who you are", says Woods. She continues, "It's not a song about me saying that I'm stupid and I'm proud of it. It's just saying, 'Hey, I'm just me! I am who I am and I'm happy with it.' It's about taking back the power that bullies have over you. It's about not changing for somebody. It doesn't matter if you are airheadish like I tend to be, or super smart, or peppy. You accept yourself for who you are. You love yourself as you love others and love God."
Leslie's music video for the song, "Clueless", was produced by award-winning film company, Living Water Films, on location at Jellybeans Family Skate Center in Wilmington, NC. Living Water Films is also the company who is also currently filming the upcoming movie,Adrenaline, which stars John Schneider (Dukes of Hazzard, Smallville), Gregory Alan Williams (Remember the Titans, TV series Necessary Roughness), and Charlene Amoia (How I Met Your Mother). Woods is scheduled to perform the national anthem during the race in Rockingham, NC in September which will also be featured inAdrenaline, the movie.
September 1 also marks the start of Leslie's tour which begins at Family Fest 360 in Springfield, MO where she will share the stage with Audio Adrenaline, Rhema Soul, Sarah Grinder, Alyssa Dawn, and other notable artists and bands.
You can purchase Leslie's CD/DVD today by going tohttp://LeslieWoodsMusic.com or http://INOV8Music.com. Watch her promo YouTube video at http://youtu.be/IdhYUTVkivI or her official music video at http://youtu.be/JmYpBiGkHTs.
To learn more about Leslie Woods, visit http://lesliewoodsmusic.com. Like Leslie on Facebook (http://www.facebook.com/lesliewoodsmusic) and follow her on twitter (http://twitter.com/lwoodsmusic).